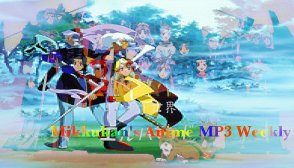 Mikkukan's Anime MP3 Weekly
Last Update: March 21, 2000 (more soundtrack pages has added, I'll start uploading songs tonight.)
Hey, if you have some CDs from my CD list and would like to make reviews for them, you are more then welcome to do so. Contact me and I'll post them up. Again, I'm in need of large CD scans and a ftp.
Last Update: March 20, 2000 (5 new songs were added, plus I'm in progress of putting up numerous of samples which should be up in 2 days)
Lazy me... took so long... so how da ya guys feel about the new look of my site? Any better suggestions just drop me a note. The image section isn't up yet, but should BE by the end of the week. I put up a seperate site titled "CD Info.", go click the above button "CD List", and it would take you there, and a numerous samples and full tracks are waiting for your pressure. Since the songs take up quite some space, doesn't anyone have a ftp account that I can share? I'm in my springbreak right now, so expect at least few more updates within this week. BTW, I'm currently searching for a large amount of large CD scans, if you happen to have any of them, or you own the CDs with the access to scanners, you are more than welcome to notify me, and we can trade something for it. Of course, if you want to do it as free distribution, it would be even better! Want to make money by just surf the web? Here's your chance!

Recently I'm maily searching on stuffs of the animes Akihabara Dennougumi, Mamotte Shugogetten, Neo Ranga, the new You're Under Arrest OVA, Bakuretsu Hunter OVA, Starship Girl Yamamoto Yohko, and Angel Links.
PleaZe sign my GuestBook if you have a moment of vacance, this can enable me to update my site more often...
Enjoy Your Stay!
| | |
| --- | --- |
| | |
| | |
I'll add 4-5 new anime mp3s each update, and sometimes with a bonus track.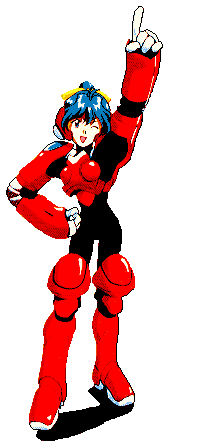 | | | | |
| --- | --- | --- | --- |
| > | More music? Click on the CD left! | Any requests? Tell me and I see what I can do! | |
"Precious Wing [light wind version]", an image song from the anime Soreyuke! Battle Ship Girl Yamamoto Yoko II, can be found in one of Masami Okui's earlier albumMa-King. All of those CD albums are out of printed, so I doubt if you still can able to get one of them now. :þ "Groovy!", ED of the popular magical girl anime Card Captor Sakura "Information High", track #1 from the Macross Plus CD single Sharon Apple: The Cream P·U·F, performed by Sharon Apple, as the title explains itself. The song is fill of eight-minutes of non-stop high-energy dance music, complete with a fast steady beat, Eurodance English vocals, high-tech ambient sounds, and an explosive climax. It also towards Eurodancey quite a lot. The track is considered rare since it only appears in the P·U·F CD. "Saa", the short version of the TV OP from the anime Mamotte Shugo-Getten , performed by SURFACE.
Any requests please e-mail me, be sure to include the song titles and the anime it's from.

Email
View Stats: http://www.site-stats.com/cgi-bin/login.pl
You are Visitor No:
View Counter Stats
FastCounter by LinkExchange